You must have often encountered across the term search engine optimization.
SEO it the backbone of all enterprises today in the digital business world and a strong foundation for your website.
You just can't think without SEO, if you are really serious about taking your marketing to the next level.
However, to dive deep into SEO you need expert SEO consulting services initially to eradicate all serious technical issue that is keeping your website at stake.
Surely most people think about it, and some neglect it because SEO is not a short term strategy.
People expect results within month/s, but in reality, it would take years to get a profitable business out of SEO.
Focusing on the process is more important in SEO, not on the goals or consequences. If you focus on the process something will definitely come out of it.
So the best way to make it happen for your business is to practice self-learning and keep doing it. However, if you are a Ludhiana based business, it would be best for you to hire an SEO Company in Ludhiana who delivers expert SEO Services in Ludhiana. 
Because you have to be strategic with your SEO plans to measure the results and keep track of it periodically to optimize your SEO plans and Strategies for great results.
"Today it's not about 'get the traffic' — it's about 'get the targeted and relevant traffic." – Adam Audette, Chief Knowledge Officer, RKG
What is Search Engine Optimization?
SEO or Search Engine Optimization is the ability to bring your website on the first page of popular search engines such as Google, Bing or Yahoo. But it is not an easy thing to think about and you can't do as such manipulations either to get yourself quickly onto the first page. SEO is hard and it takes time to be on top.
"Good SEO Work Only Gets Better over Time. It's Only Search Engine Tricks That Need to Keep Changing When the Ranking Algorithms Change." – Jill Whalen
Search Engine ranks your website on a number of factors behind-the-scenes optimizations like site architecture, page load speeds, data markups and more, and it is the foundation for all other SEO efforts. And mobility is not an exception either, optimizing your website for mobile & devices is a very crucial and most important aspect of SEO today. This means your website should be device responsive and visible to readers on multiple devices.
According to Google, 61% of mobile searchers who land on non-optimized site will immediately leave the site and return to Google to find one that is more readable.
All these factors might seem intriguing to you if you haven't heard about it earlier. However, these are proven terms that dominate the ranking factors along with other SEO efforts such as content, HTML, Domain Authority, Page Authority, Trust, Links, Social Shares etc.
A recent study by Hubspot, found only 9% of businesses using inbound marketing with SEO failed to see an ROI. So if it works for 91% or companies, it is very likely to work for you too.
Delivering SEO Services in Ludhiana for Small & Medium Enterprises: D-Cloud
SEO is a long term strategy, so you should consider delivering your SEO plan to an SEO company in Ludhiana, the other way out is, you can also hire an in-house SEO expert or do it yourself if you have the time.
So either you hire an individual SEO expert or an SEO Company in Ludhiana, it could cost you both time and money. Moreover, there is no guarantee about consistent SEO Ranking for results on the first page of Google.
SEO experts would never commit something on SEO within a short span of time. SEO takes time to get the results, and the results are amazing once you have really conquered the search engines to show up your website on the first page for relevant searches.
According to research, 55% of all clicks go to the first three organic search results.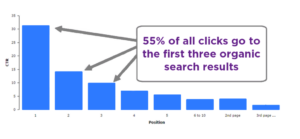 And if you could at least come nearer to 25 per cent of your targeted niche keywords, on the search results, it can potentially drive results over time by optimizing your content for users and improving your ranking, but it does not mean that you can rank for each and any keyword.
Because most targeted keywords are already occupied by your competitors, SEO for startups and new business is going to get tough, however, if you hire an expert for quality SEO services in Ludhiana, consult with them for an alternate way to start with the right relevant keyword for your business.
However, if you are doing it for yourself there are a lot of free tools to find your relevant & targeted keywords specific to your industry. So try out these below tools
1. Use the Google Keyword Planner
2. Use UberSuggest
3. Use Google Search Console
4. Use Forums
5. Use SEMRush
Which is preferable, an SEO Company in Ludhiana or an In-house SEO expert?
Large organisation are able to afford a digital marketing team for their in-house marketing. So it is feasible for them to hire full-time SEO experts for improving their SEO strategies. However, this does not mean, it is not a good idea for  Small & Medium Enterprises to hire SEO experts for their firm.
The bottleneck is Small & Medium Enterprises do not often have a digital marketing team, so hiring an SEO expert for the sole purpose of SEO is not viable. And even if a person is hired for SEO purpose, he/she would not be able to focus entirely on SEO activities until his post is committed for SEO services only.
So it depends on the size of your business whether you are committed to hiring an SEO and Digital Marketing Expert for your in-house marketing activities or preferably hire a third party SEO Consulting Firm to focus entirely on scaling your marketing business.
Benefits of hiring an SEO Services Company in Ludhiana?
Hiring an SEO expert or an SEO Company in Ludhiana will provide the following benefits for your firm.
SEO best practices, comprehension and adherence
Expert SEO consulting services in Ludhiana
Real SEO services generating traffic to your website
SEO Company in Ludhiana focused on increased ROI
Premium SEO Tools for real data analytics to measure performance
Extensive SEO research based on your specific industry domain
Technical SEO services related to web architecture.
Advanced Google & Bing Analytic and Reporting Services
Link Building from authority sites
Quality Content Writing & Blogging
Stay ahead with the latest SEO updates
Hire a Top Notch SEO Company in Ludhiana for valued added SEO Consulting Services
If you have really planned for implementing an SEO strategy for your business, well that sounds great. Because not all businesses understand the value of SEO. You need a top-notch SEO consulting firm to take your current SEO plan to the next phase. How do we do it?
The First Phase of SEO Consulting
Make sure your website is up and running and not penalized by Google. Because honestly speaking recovering a penalized website can be hard if you don't know what you are doing.
Second Phase of SEO Implementation
We focus more on technical SEO, looking at your site architecture, speed load time, Schema Markup, Structured Data, Mobile optimization, Responsiveness etc. As users transition from PC or Desktop computer searches to a mobile-based search, structured data and SEO, have a greater impact on search engine results. Search engines use structured data to generate rich snippets, which are small pieces of information that appear in search results.
Schema.org vocabulary can be used with many different encodings, including RDFa, Microdata and JSON-LD. These vocabularies cover entities, relationships between entities and actions, and can easily be extended through a well-documented extension model. Over 10 million sites use Schema.org to markup their web pages and email messages. Many applications from Google, Microsoft, Pinterest, Yandex and others already use these vocabularies to power rich, extensible experiences. – https://schema.org/
The Third Phase of SEO
Analyzing your Domain and Page Authority and eliminating all spammy links from your website which don't pass any link juice. More often a high volume of spammy backlinks can be seen against a small number of referring domains, we disavow such links that do not put any kind of weight on your website. These are usually duplicate links that come from forums or profiles.
The Fourth Phase
Cleaning thin content which is low quality in nature on Google's eye and creating valuable content around your core website pages that represent your products and services and blog around niche topics and building the high-quality backlinks to boost the rankings.
Final Phase
Creating the Google Analytic and Webmaster Account (if you haven't created before) and submit the sitemap.
The demand for SEO Consulting, SEO Services & SEO Company in Ludhiana
In reality, only a few businesses are able to understand what SEO is all about, how much time frame would it take to get the traffic and how to recover lost traffic to a website. So there is a need for expert SEO Services in Ludhiana and D-Cloud understand the true value of SEO Services that every small and medium enterprise needs today.
Ludhiana is one of the big industrial hubs for bicycles, automotive and steel core manufacturing units. Apart from that, it dominates the textile, apparel & garment industry and constitutes more than 50% of exports alone.
So there are rich available opportunities for SEO Companies in Ludhiana to tap these industries and solve their problems. SEO is not an option today, it is a core part of the marketing strategies for any type of industry to take your business globally.
Real SEO is all about researching the right keyword, finding the right keyword in your niche areas and creating content around those keywords and search variable phrases.
By search variable phrases I mean a seed keyword that makes up similar keywords.
For example, if you are dealing in CNC Machines, your seed keyword could be CNC Machines, however, you could produce a number of other variable phrases around your seed keyword which are equally important and have high search volumes such as CNC Lathe Machines, Used CNC Machines, Best CNC Machines, Type of CNC Machines etc.
This would broaden your scope for ranking in search engines and if it could rank your page for your seed keyword you can eventually rank for other similar keywords as well.
Leave all SEO myths behind, do SEO by yourself or hire an SEO Company in Ludhiana?
Google has always been uncertain about an algorithm change, so this leads to several breaking myths and misconception in the SEO Community. However, as we already know what is SEO, we all want to know the magical secrets for getting higher rankings in the search results.
Unfortunately knowing about everything still can have a damaging effect on your plans. But hold on for a second, if your SEO strategies are meant for serving the sole purpose and benefits of serving a community or a group of people, any algorithmic change won't hurt you much either.
However, there are no magical secrets on getting a higher ranking factor, it works usually if you follow what search engines want.  Search engines intent is to show up relevant results for what a searcher is searching, neither good nor bad.
So to get started, optimize the following:
Publish high-quality content and you can do it better only if you know the user's search intent, take help from Google Search Analytics and console.
Do Keyword Research for the last 2, 3 or 5 years to see what is trending, take help from Google Trends too.
Recently Voice search is becoming popular, with the invention of AI and devices such as Alexa, Google Home, Cortana etc. a new way of searching is coming. It is time to think about optimizing your website for voice search too. But this does not mean voice will eliminate the typing search, people will definitely use both.
Build a Better Architecture for your website, no one want to look at what seems ugly.
Be Mobile friendly and increase page load time and speed.
Increase Trust, Build Authority, Link to trusted sources.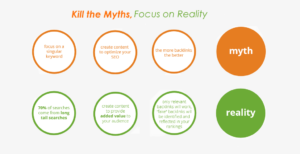 So you should do what it takes to get in front of searchers, leave all your myths behinds before you start to do SEO by yourself or hire an SEO service provider. Some of the common myths are:
SEO is dead and a waste of time
SEO is a One-Time effort
Duplicate Content Can Penalize Your Site
HTTPS doesn't affect Ranking
Guest blogging is not beneficial
Social signals have no SEO Value
Great content rank automatically
Keyword research is not required
Link building is dead
Images Don't Require Any Optimization
You must submit your site to Google
Structured Data is not useful
List of Top SEO Companies in Ludhiana to work with
As a business, if you don't have time to focus on the SEO part that is equally important for you and your business, you need to work with a third party service. There are several SEO companies in Ludhiana which provide expert SEO consulting services for Enterprises, consult with one of them below today to get started.
cs18.in
webhopers.com
kingitsolution.com
groupktechnologies.com
vishyat.com
seobooklab.com
theindianseocompany.in
dakshaseo.com
cyberframe.in
cyberxel.com
ppcchamp.in
vismaadlabs.com
bdtechnologies.in
w3sols.com
dclouds.in
In Conclusion, our SEO Consulting Services includes:
SEO Strategy Development
Comprehensive SEO Audits
Keyword Research & Analysis
Competitive Analysis
Web Design/ Redesign
Improve existing content & generate new content ideas
Resolving Technical SEO Issues
Link Building
Internal Linking
Continuous Process Improvement