Either you are a team of 1 or 1000 every business needs a CRM to build strong and engaging relationship with your leads and customers.
It is also vital for support and after sales services to deliver best customer experience.
Also if you are serious about growing your customer base, you can't do without a CRM
CRM is vital for contact database management and timely communication either through text, calls, SMS or email.
so unless you don't have a marketing automation system you would end up in vain chasing every leads at the wrong time.
CRM shape your world of marketing automation and makes it simple for you to close deals ideally in an effective way.
Replace your marketing spreadsheets with the automated HubSpot CRM App
There are a lot of CRM Solutions in the market but you can start with one of the best free CRM software known globally – The HubSpot CRM.
HubSpot by heart is the best and an incredible CRM Software Company.
This company has invested their time and money to innovate a world class product.
They also offers digital marketing profound knowledge for small businesses, startups, entrepreneurs and marketers to learn and grow together.
Because great companies realize if the society is untrained, no matter how big your company is and how best your product is it will be no where.
So to grow up HubSpot provides free learning tools and tips and contribute it to audiences for free.
Because they know it well, only by getting your buyers trained and making them aware of your products can lead to more sales and growth our businesses together.
However no company can do it for free until they are really big or they are willing to help the micro and small business learn and grow together.
You need to have a very big heart to raise micro and small business above the ground and to develop credibility.
And HubSpot is one of those great company which provides great learning for free in the form of content.
It provides great opportunity for micro small and medium enterprises to grow their business using contacts database management for free.
However everything has a price, nothing comes for free when you would like to integrate each and everything.
But the good thing is even for managing a large team  HubSpot CRM is free and is not less than any other CRM.
Normally a CRM Software cost user wise monthly, quarterly or annually depending on plans for different companies.
There are a huge list of CRM Software available but a very few offers a great value and a great platform for CRM.
Value and Components of a great CRM Software
The first thing when it comes to mind about free, we often think about value being delivered.
However investing in a tool which doesn't give you output at the end of the day has even no value.
So whether it is a free CRM product or a Paid CRM product if it delivers it's job to you it is meaningful.
Expensive products don't always equate to high quality just as free products to mean they're not good enough.
This means zero cost doesn't always equate to zero value of a product.
Your CRM is core and integral to marketing team of your company and business.
So what do you literally want in a  Free CRM which should perform up to your expectations, and give the best user experience for your team at large.
Some of the Core Components of a CRM Software are:
Contact Database Management and Storage
Email Marketing & Automation
Lead Management
Pipeline Management
Mobile CRM
Task Management and Allocation
Calls Management
Record Management
API Integrations
However most of the micro and small and medium enterprises use CRM software for email marketing only.
And Mailchimp Pricing satisfies the needs for email marketing at large for free to around 2000 contacts.
However here we will take a look at the No. 1  Free Hubspot CRM software based on its unique functionality.
Free CRM for small to large business – HubSpot CRM
HubSpot CRM is a fully powered free sales and marketing software with a dedicated pipeline view.
You also get a classic marketing, sales and service dashboard view for your desktop.
Choose from 100's of inbuilt dashboard reports for free that caters to need of owner and sales rep.
Which you don't even get by paying for any other CRM Software.
Some of the reports that you will love to see on your dashboard every time are:
Contacts created by Day
Deal Forecast
Sales Performance
Top Personas
Contacts Overview
New contact by sources
Most recently created contacts
Returning contacts
Deals closed versus goals
Productivity
Team Activity
Total Calls
Calls Made by Reps
Average Call Duration
Call Outcomes
Deals Stream
Recent Deal Amount by Source
Deap Snapshot
Deal Leaderboard
Deal Stage Funnel
Time in Deal Stage
Deal Revenue Leaderboard
Deal Forecast by Owner
Deal Revenue per Stage by Deal Type
Closing Deals
Deals Won & Lost
New Deals Created
Closed Revenue by Sources
My Task
My Meeting
Sales Email
My Sales Email
Notifications
What's New
Incomplete Task
Leaderboard
My Activity Feed
Call & Meeting Totals (by Type)
Call & Meeting Leaderboard (by Type)
Total Meeting Booked
Meeting Booked by Rep
Meeting
New Marketing Qualified Leads
Average Days to Close
and many more.
You can add and manage contacts, deals, task, notes etc directly from the Mobile CRM Apps for Android and iOS.
And the App functions as a premium capabilities for CRM users to jot down anything at any point of time.
Based on contacts the timeline keeps tracks and shows the history of all calls, notes, task, schedules, email, meetings, and social media etc. to a great capture about your ideal lead.
Also this software suite is primarily designed for large productivity with a premium Google Mail integration.
It is designed to help small and medium business close more deals and obtain a full visibility of their pipeline.
The pipeline looks similar to below diagram leading to a 7 stage lead life cycle board view: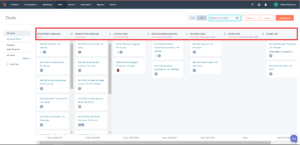 The above pipeline however you can customize in your own way and the number of steps you would like to implement,
So this is one of the interesting part on company's front end modification as per business needs.
You can add and make your own pipeline and sequence it as per your needs.
And navigate your deals as you go along the way nurturing your leads.
Also move your deals on the board from one stage to another until your leads turn into customers.
Click on any of the deals to go to your timeline view for history and or assign the task to another member of your team.
Also you can drive your lead from a single screen taking the right action for your lead and step ahead.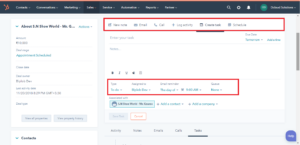 Features available for free in HubSpot CRM
Following features are available functionalities for free on HubSpot CRM Software:
Up to 1,000,000 users and contacts
Unlimited storage
Arranged customer documentations & client profiles
Add Marketing analytics dashboard with upto 10 reports
Add Sales analytics dashboard with upto 10 reports
Automated importing from email hubs, phone databases, and social media
Phone integration
Custom views and pipeline management
Lead enrichment and automated tracking of website visitors
Fast leads backlog
Drag-and-drop communicators
Deal & task board
Templates & scheduling
Phone support, live support, tickets, training base
Wide range of product integrations
Features available for paid in HubSpot CRM
If you want to scale your business with paid features, here are a list of functionalities:
Advanced Reports & Custom Dashboard
Content creation tools
Email marketing
Social media suite
Meetings
Messages
Sequences
So to ramp up finally let us look briefly as what this free growth suite consists of.
This free growth suite consists of the CRM, Marketing, Sales and Services Hub with exceptional features such as:
CRM FEATURES:
Gmail and Outlook integration
Contact management
Contact & company insights
Company records
Deals
Tasks
Documents
Calling
Canned snippets
Team email
Live chat
Conversations inbox
Reporting dashboards
MARKETING HUB FEATURES:
Forms
Ad management
Contact activity
Lead qualification bots
SALES HUB FEATURES:
Email tracking & notifications
Email templates
Email scheduling
Meeting scheduling
Meeting booking bots
SERVICE HUB FEATURES:
Ticketing
Ticket creation bots
Email & chat to ticket
Email templates
Meeting scheduling
Meeting booking bots
Conclusion:
As a startup you must be willing to adopt any CRM solution that boost your deals & lead closing performance.
So HubSpot CRM might be the best choice for you not because its free, but it's value driven.
Start with Hubspot and continue your journey of marketing leading to sales.
As you grow you can add more features to your line such as the service hub.
And once you are ready to scale, there's also a list on what additional features you'll get should you decide to invest.
So download the HubSpot App right today from the play store and start with contacts management strategy.
Because without contacts there are no deals and without deals there is no business.
Play around with your contacts, call, text, schedule task and do much more.
Drive you business goals efficiently and effectively starting right today.