Cloud ERP Software in India popularly introduced by various software vendors today exist for SME's and the MSME's.
And it is not just about small software vendors who have brought the Cloud ERP Software in India, the giant software firms have also come up with ERP for tapping the SME market.
However, ERP for Small & Medium Enterprises should be entirely different, and within the scope of their business and goals
ERP vendors should not impose a fixed product on businesses to use ERP as it is, this is where most ERP vendors fail to understand smaller enterprises. Small enterprises are even more complex than the bigger enterprises, so implementation differs in a number of ways.
Software firms have risen tremendously over the years, but only a few of them have been able to successfully launch a product for the small business manufacturing industry.
No business would love to invest money on software which is hardcoded and doesn't solve their problem, businesses invest money on ERP to solve what they need.
Small Enterprises also need a scalable architecture with tools to manipulate reports and capabilities on the front end, it can be a print format, a dashboard report or a KPI on production processes or lead time to complete a Job.
There are a number of KPI's you can think out of the box, that can grab immediate attention on what is going wrong inside an enterprise.  And it should be inbuilt into the system, so vendors need time to think and ponder on what KPI should be introduced.
One thing that is more commonly required is, whatever modifications come along the way during implementation the more focus should be on MIS reports for management.
The Micro Small & Medium Enterprise is a sensitive sector, and implementing ERP in these sector requires efforts, time and patience.
However, cloud ERP is best suited for small enterprises as they provide information in real time and it includes a scalable business process to configure the functionality and processes for SME's to a large extent.
Users can get trained easily on a cloud-based system as it is easy to use and the management and stakeholders can take better decisions.
It also allows you to improve the functionality of your business and restrict reports or features which is not required for a user, or group of users in no time.
What are the Micro Small & Medium Enterprises in India?
The Micro Small and Medium Enterprises in India belong to a core industrial segment and this segment is predominately helping the larger enterprises in supply and chain distribution.
Most of the small & mid-sized industrial manufacturers manufacture parts for larger enterprises to meet their demand for the marketplace.
So probably there are contracts from large enterprises for a longer period of time for SME's to fulfil it on a regular basis.
In such cases planning to execution and scheduling task with a good ERP system is crucial for your enterprise.
ERP is beneficial for your enterprise for timely order processing, purchase planning, inventory planning, production planning,  work order scheduling, stock keeping and to meet the expected timeline for delivery.
Micro Enterprises often have a limited amount of workload so ERP seems like an investment for small manufacturers. But if you are willing to automate with an ERP,  it will be an asset in the near future. Often we see small manufacturers are bound to manual processes using spreadsheets and because of the limited availability of resources, MSME's are restricted to progress.
And I assume the dominating factor that restricts the growth of small manufacturers is 3M, money, material and manpower, so even though in some cases manufacturers have the orders, they are unable to execute and plan due to the shortage of resources.
However, if you have the burden on production, you have to replace your manual behaviour pattern, because our manual plan may fail, but a well planned, executed & implemented ERP system will not fail and it will scale your business.
The need for Cloud ERP software in India for MSME market
I have been visiting the industries often and what most manufacturer says they have wasted plenty of money on it, none of the ERP seemed to be beneficial for them.
I think the software vendors need to understand what is the demand for small manufacturers, and why are they saying so. Small business manufacturers don't have time to sit and look at the text-based long headache reports. They need graphs and visual display to identify the loopholes instantaneously, it can be anywhere and in any department.
A lot of customers say I need Dashboard for each and everything so that I can only visualize what is going wrong in my enterprises through the KPI. Also, most of the time demand comes from printed format reports where they need little or small modifications, so tools must be provided for the end user to occur any sort of transition.
ERP is hard to define and no ERP can promise that it will provide each and everything, but if software vendor's don't understand small business workspace, the product is not a perfect fit for the SME's.
There are a lot of cloud-based ERP available on the marketplace, however, the budget is a constraint for small businesses.
So as a small business, you have to find the perfect cloud fit, best suited to your business needs and is not heavy either on budget.
However the quality is directly proportional to price, the less is the price of the product the lesser is its capability, so I would suggest small businesses to go for open source ERP if you already have an IT team.
Open Source ERP is free to use by any organization in the world. However, there is an implementation cost and that you have to bear.
What is missing in an ERP, most manufacturer says "None of the ERP seems good"?
One important issue that we find in every small scale manufacturing industries is managing the shop floor, labour and machines and these are what manufacturers have been trying to fix since ages.
Most ERP miss out this part strongly? An important part is to define detail processes, planning and scheduling, production KPI & dashboards, multi-level BOM, BOM based subcontracting and job work, machine's capacity, ability to measure workload on machine versus capacity, Gantt chart, resource conflicts, worker's salary calculation based on contracts, idle reports related to labour, machine etc. Controlling these parameters inside a factory genuinely drives growth. Isn't it so?
So every manufacturer is trying to find out tools which support automation for managing their plant, not the office.
So in one word, SME needs the right automation tools to control it!
And the only tool available today to reduce complexity for efficient & effective business operation is to find out who is supporting and implementing the right automated systems and have the will power to understand MSME.
Technology is cheap today and it has come so far by now that it is rapidly changing the entire scenario.
So what should a small business do? You should make standard processes and follow standard procedures to cope up to a changing environment. There is no other choice.
Cloud ERP Software in India is a game changer for any Micro, Small & Medium Enterprise
Systems always do things great, unless we are not providing any wrong inputs.
It is exactly the same with ERP systems, they do things great unless you are not providing wrong inputs.
However either it is Cloud ERP or an ERP on Premises it will exactly do the same thing for you.
But why Cloud ERP for SME's, the first thing when it comes to mind for micro enterprises is a matter of budget.
In this case, Cloud ERP is affordable even for Micro Enterprises.
Because you can start even with a single user base subscription or two at an early stage of your ERP implementation plan.
Again it depends on ERP software vendors plans and pricing. A very few ERP Software vendors provide a single or two user subscription.
But it is optional for any enterprise and ERP vendors to negotiate and select users based on individual requirement.
Most of the small and medium enterprises have no ERP systems to streamline their entire business process.
Because most often small business predicts, it depends on the workload of an enterprise, and most enterprises think it is costly and requires a team to manage it.
However this is not the case, today Cloud-Based ERP systems are easy to operate, cost-effective, and efficient for any small and medium enterprise.
Cloud-Based ERP can become operational and can execute within 10 minutes of activation.
Also, cloud ERP software has strong configuration levels for easy configuration of business processes.
SME's often interpret ERP is only for larger enterprises because they have neither experienced the Cloud ERP domain.
Most of the time, enterprises face various issues and are unable able to execute their plan, and it leads to inefficient process scheduling and delayed projections.
This results in delayed procurement and purchase and missed production line and sales delivery resulting in unhappy customers.
So this is where Cloud ERP Software in India becomes the need of an Enterprise to measure:
Real-time production and process monitoring
Improved Product Quality
Shorter lead time support and schedule adjustments
Reduced cost and greater flexibility
Dashboard Analytic & KPI Alerts
Mobility
How Cloud ERP Software in India for SME can streamline Micro, Small and Medium Enterprises?
Cloud ERP can streamline your enterprise because it builds a collaborative environment for your team.
Enterprises who have successfully implemented ERP systems are enjoying collaborative working with real-time data on the cloud.
And are able to forecast the scenarios at an early stage, eventually, they fix gaps on time.
So if you could properly make & implement ERP systems for your concern, you build an asset rather than an expenditure.
And selecting the right cloud ERP solutions for your concern can reap the  following benefits:
Sale Order Management to keep your order update on real time
Purchase Lead time to meet order demand
Inventory Management keeping maximum inventory at minimum keeping cost
Efficient store operation
Efficient planned production and scheduling of work orders on Shop Floor
Standardized processes
On time deliveries
Real-time and instant report tracking on any device.
So, rightly speaking without ERP various challenges in today's day to day operation can be daunting.
And the legacy system does not collaborate with your challenges.
Challenges can be a risk of losing orders, wastage of inventory, inaccurate scheduling and non-complaint operations resulting in delayed dispatch and spending hours in validating reports.
Maximize your Production from Real Time Cloud ERP Software in India at Affordable Cost
Technology is cheap today so is the cloud, it is no longer expensive.
Cloud ERP comes at an affordable cost and cloud technology has created impacts on the software industry to deliver cloud-based enterprise products.
As such software vendors are evolving with their cloud-based enterprise software for business to helps small and medium enterprises succeed.
However, not all cloud accounting software is an ERP system. ERP systems are business software which comes with various integrated modules for a manufacturer.
Most of the ERP systems may have different modules but they are not an integrated solution.
So not having an integration is a downfall for any ERP solutions.
ERP systems connect your every activity and process the flow of information across the enterprises and as such the fundamental aspects that define an enterprise resource planning are:
and more, so you are able to have bird's eye view on your enterprise and measure your business performance.
Take Decisions with Mobile Cloud ERP Software in India for SME
Bring your Enterprise software to the mobile and to the cloud by adapting to Cloud ERP.
Your enterprise will drive crazy when you get everything on your mobile.
And this will result in an efficient, effective and planned business operation.
Not all ERP is mobile optimized, and some vendors do provide mobile apps, but that can be only for reporting purpose.
However, some ERP vendors have optimized their Cloud ERP for Mobile and that is phenomenal because optimized mobile ERP for Google Chrome or Mozilla brings full functionality to your mobile device.
Apps, on the other hand, are useful for report visualization, because most of the mobile apps ERP are not fully functional, but I hope vendors will update it over time and bring improvements to it for greater flexibility.
Developing an App is a huge investment for software companies but an asset as well since cloud ERP is still a new trend among enterprises so software vendors have just started investing in Apps as well.
There are several benefits of mobile-optimized ERP on Cloud, mobility provides
Great Value Added Communication
Coordinate your team on time
Improvement in workflow and expedite the approval process
Informed Decision Making
Instant access to the work centre
Enhanced attention towards enterprise investigation
Great operational productivity
Anytime access to enterprise Dashboard, KPI's and Business Intelligence
Top 5 Cloud ERP Software in India for SME & MSME
Needless to say, as ERPNext is one of the top cloud ERP software in India and it is an open source platform with phenomenal software architecture. With lots of documentation loaded on the internet, it is exceptionally strong for Manufacturing business which includes complete production planning and control and MRP2 integration for manufacturers and also fits all kinds of businesses.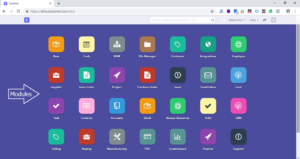 The thrilling part about ERPNext is, ERPNext is the modern age, easy-to-use, 100% open source, business management software used by thousands of enterprises worldwide.
It has been recognized as one of the world's best open source ERPs and is backed by the not-for-profit ERPNext Foundation
And ERPNext Foundation is a registered not-for-profit organization that enables the community to build and enhance ERPNext.
So it is a great opportunity for MSME & SME to take advantage of ERPNext.
ERPNext is constantly updating and evolving as a full-blown ERP, it is dynamic and robust and it can be used by Micro Enterprises to Large Enterprises.
It provides both self-hosting and on cloud hosting.
For self-hosting, you need to hire an IT Manager at a good cost per month, to look after your company's IT Infrastructure,  server maintenance, backup, recovery, security etc.
Also if you setup ERPNext on your own, then you start with a base cost of around $40/month for a VPS.
For MSME & SME it is advisable to go for Frappe cloud hosting because it is cost effective when your IT Infrastructures are being handled by Experts, so you can focus on what you do best.
You can learn more about ERPNext at https://erpnext.com/learn
ERPNext is World's Best Open Source ERP for MSME's & SME's
ERPNext is simple & easy to use, search option on the dashboard provides an easy user interface to search for any module, forms or reports navigation.
It also has the available front end form & reports customization tools for custom modification and it is easy to insert custom fields on your forms and reports.
ERPNext aims to be the partner of choice, for serious organizations looking for solid ERPNext experience and support.
From Server Management to Upgrade to Bug Fixing and Support ERPNext manages everything for your business.
ERPNext provides great values to the organization of all sizes, and any enterprise can start by using a single user.
Since it is a not-for-profit organization, extensive support systems are available for running your business which includes documentation and learning material, developer support, functional support and server support etc.
According to builtwith.com, there are around 2,840 websites that are ErpNext Customers.  1,340 live websites are using ErpNext and an additional 1,500 sites using ErpNext historically and 107 websites in India.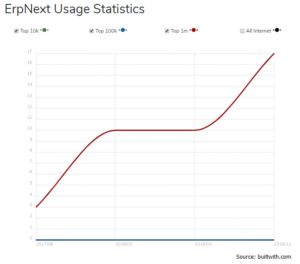 ERPNext Features & Pricing: Power Suite for SME's & MSME's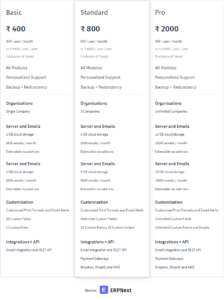 Deskera ERP is yet another cloud-based ERP system, it is an award-winning ERP software solution for small and medium enterprises and a full-fledged cloud ERP suite for multi-location manufacturing units.
It has all the modules integrated within the Cloud ERP suite set of business application and organisation of all sizes uses Deskera.
So Small & Medium Enterprises can take advantage of using DeskEra ERP module wise.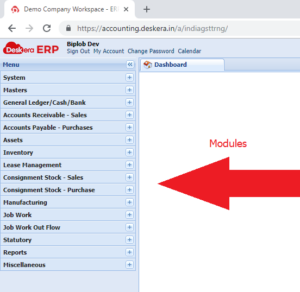 The base products & modules in Deskera for manufacturing industries consists of
ERP Cloud
ERP + MRP Cloud
CRM Cloud
Project Management Cloud
HRMS Cloud
eLeave
eClaims
Deskera software is licensed on a subscription basis so there is an annual subscription charge user wise.  And based on annual subscription, any enterprise can start using Deskera ERP with a minimum number of users required.
It is cost effective for small and medium enterprises and allows reports and form level customization at the core functionality and tons of configuration gives you lot of flexibility. Provide outstanding high-speed performance on the internet, Deksera ERP is simple easy to use and a key to success for SME's
Deskera ERP & MRP Cloud Integration for Manufacturers
Deskera ERP has a strong integration and seamless flow of information across all the modules connected to each other. In fact, Deskera also provides an MRP module integrated with ERP to drive manufacturing operations with ease for enterprises.
Broadly Deskera Integrated Enterprise consists of ERP Cloud, CRM Cloud, HRMS Cloud & Project Cloud for both discrete and process manufacturing industries.
Let us take a look at various features of ERP across a different bunch of modules.
Deskera ERP Cloud is built to accelerate business activities and maximize profits,  any enterprises can go live within hours of activation or a day. Deskera ERP is built for scale to assist businesses with the necessary tools and processes to make sure you stay agile lean and efficient with its best in class offerings.
Accelerate Core Purchase Processes
Simplify Order to Cash Process
Customer Delight with a 360 Degree Visibility
Manage Suppliers/Vendors
Optimize product process cycle
Create Smart Accounting Journal Entries (Auto)
Manage Item Master
Optimize Inventory
Manage EOD Operations Checklist
Track Full Movement History
Financial Reporting
Complaint Management
The above life cycle in Deskera ERP allows you to automate business processes and manage your enterprises to keep the record and view all business transactions in real time.
Deskera ERP is also an easy to use accounting software that facilitates recording and processing of different financial transaction and processes and switch between Deskera apps easily.
Manufacturing Resource Planning
Deskera ERP includes an MRP integration as well for mid-sized manufacturers. MRP module provides full-fledged functionality for manufacturers where users have access to
Record Product Data
Manage Factory Machines
Manage Labour Resources
Track Work Center Activities
Define Routing Codes
Maintain Master Contract
Manage Work Orders
Generate Master Production Schedule
Perform Quality Checks
Monitor Cost
Plan Product Delivery
Demand Forecast & Planning
To run Deskera MRP you first define and plan all your manufacturing capabilities under five master setups.
Product Master
Deskera MRP allows you to create a product as a service item, job work assembly, job work inventory, inventory part, inventory assembly, non-inventory part, and inventory non-sale item.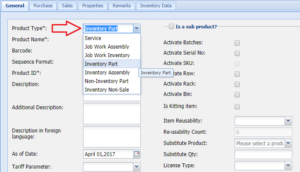 So if the item is an inventory assembly, you can create a multi-level bill of material (Multi-Level BOM) with an easy to manage tree structure and view each and every part on an assembly under a single window.
Also, you have infinite levels of BOM formulas to work with and it applies to both discrete manufacturing as well as process manufacturing.
Define BOM codes, create alternate BOM for your products and map them to different work orders, work centres and routings. Define quality parameters for your products and sub-products and map them to quality groups and set their passing ratings and maintain lists of rejected items with a record of their repair, reusability, recyclability, or disposal.
Labour Master
The labour master lets you easily define every human resource labour along with his or her key skills and assign work centres. The cost of every labour resource is also definable and any conflicts in the allocation of labour resources can be easily detected and resolved.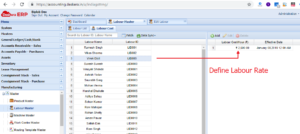 Machine Master
Machine master allows you to define your machines as an active or substitute and map them to specific work centres based on the processes that the machines are able to perform. Also, record details of machines including its serial number purchase date operating capacity usage and man to machine ratio.
And machines can be mapped to a lease account or asset account that are integrated with other parts of Deskera ERP. All this makes it easier to identify the machines you need when you create a work order.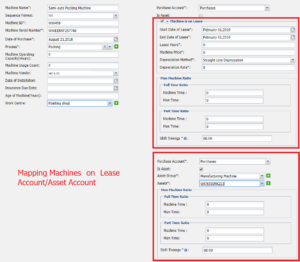 Work Centre Master
Define your work centres in Deskera MRP work centre master and assign to it your product, labour and machine resources. The defining fields of a work centre include its type, operating capacity, manager and the warehouse that stores its products.

Routing Master
The routing master is where you plan out the sequence of tasks which you need to follow in order to manufacture your final products. Define routing code or routing template depending on how well you know it to be. Alternate routing can also be defined if there is more than one way to manage the product.
Each task within a sequence is based on the resource from the other fore masters and can be assigned quality check parameters. Tasks can be re-ordered in the sequence, indented to form a hierarchy and can be set as predecessors or dependencies of other tasks.
So you can prepare a roadmap for your project and list out all the possible steps or action which will be undertaken for the completion of the project. View what resources are allocated to the project, amount of time it will take to be completed and also depict the processing of the project with the help of interactive and easy to understand Gantt charts.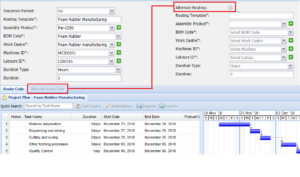 ProERP is powered by ProStar Consulting Services, a simple, easy to use ERP on Google Cloud, hence it is often known and search by people as Google Cloud ERP on the internet.
And it has almost all the modules within the ERP suit along with a google cloud hosting hence your business get top-notch security from Google.
ProERP also runs perfectly on Mobiles with all the modules optimised for Mobile Devices for full fledge functioning. Indeed it is the only ERP that works full fledge on Mobile devices as like a Desktop or Laptop user experience.
So you don't need an app to install but it works wonders on mobiles through Google Chrome or Firefox browsers, from data entry to viewing reports and dashboards. But you can't delete any record you can only modify or cancel it once it is approved.
ProERP also provides customization which is another very important aspects for any enterprises to know before investing in ERP solutions.
In reality business challenges are after all challenges whether it is faced by micro enterprises or small & medium business or large enterprises.
However large enterprises have the buying power hence they are capable of large investments.
But small and medium enterprises have different challenges, so how does an ERP address small business challenges matters the most.
In fact, ProERP has addressed all those challenges for small businesses.
Learn more from the ProStar Consulting Services
Modules of ProERP – The Cloud ERP Software in India
Micro Enterprises and Small & Medium Enterprises fall largely on a different segment, so needs differ too for different businesses.
You can take 15 days for the evaluation process, where you would be able to understand if ProERP is suited to your needs, if it fits your requirement, well you can start directly, however, gaps can be addressed only by the company because for customization a nominal charges may be incurred as per man day.
In fact, ProERP provides startups and enterprises to start ERP with 2 users. So this is a great opportunity for micro-enterprises.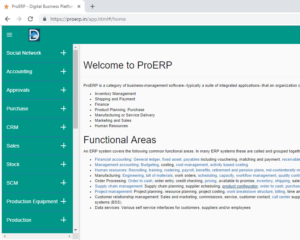 ProERP is built for the SME's so let us look at the modules covered by this ERP.
CRM Module
Purchase Management
Stock/ Inventory Management
Production Planning
Project Site Management
Support & Service Management
Supply & Chain Distribution
Accounting Module
HRMS & Payroll
Business Email & Document Management
Approvals, Email/SMS Alerts & Dashboards
ZipERP is an integrated ERP for Micro Enterprises which enables you to quickly move away from your current manual process to an automated business system.
It is highly configurable and presents a simple user interface that is easy to use and operate.
Modules include business processes covering Order to Cash and Procure to Life Cycle along with simple production and quality module.
However, it also offers some other modules such as HRMS, Engineering and Task Management.
ZipERP is also beneficial for Small and medium enterprises if the requirement is met, it will be the best fit.
With a single user ID and password, you get access to all its modules.
It offers seamless integration across all your business functions and keeps you updated.
Upcoming mobile applications provide better visibility of reports and entry point for order and invoice entry from Apps.
Defining the BOM. Process Routing & Quality Check Parameter
ZipERP allows you to define your manufacturing processes like BOM, sequential routing and quality check on each routing process from a single master.
Define your quality parameters using the template master for quality checks.
The process confirmation in transaction allows you to define process completion and loss quantity, whereas a separate entry can be made from the stock journal for daily production quantity update with reference to Work Order.
Tech Cloud ERP – The Cloud ERP Software in India
Tech Cloud ERP is known for its innovation in the manufacturing industry.
As the name suggests 'Tech Cloud ERP', it is also a web-based ERP, cloud-based enterprise software for small and medium enterprises to caters to the needs of growing businesses.
With the ability to process millions of transaction from various sources, TechCloud ERP is an integrated ERP solution and is one of the fastest ERP on the cloud delivering the best user experience.
Tech Cloud ERP is accessible on the cloud, it is available any time and anywhere supporting your business 24×7.
With an unlimited number of users supported by Tech Cloud Enterprise Edition ERP, you can enjoy multi-user facility for free and control user rights &  permission.
There is 2 unique selling proposition for Tech Cloud ERP, the basic version of Tech Cloud ERP is an Open Source code and available at low cost, best for manufacturing companies with in-house IT team, the other way to access it is on subscription, pay as you use model i.e software as a service.
Features of Tech Cloud ERP
It is a Light Weight ERP suitable for various vertical and industry
Dynamic Dashboards with Graphical User Interface, support mobile devices
Auto backup facility, Inbuilt SMS & Email facility
Customizable, Amazing Support & Flexible pricing
Lifetime product, for Enterprise Edition, no renewal with full customization
Flexible & User-Friendly, Multi-Language Support
Freedom of Open Source
Supports Marketplace Plugin Integration etc.
For more details visit Tech Cloud ERP official for features & pricing
https://techclouderp.com/pricing/
In Conclusion:
If you need any consulting to understand which ERP is best for your business.
Consult with us for free for a detail discussion on which ERP could be the best fit for your business needs.
Remember most cloud ERP don't provide any customization specific to a single customer.
But yes some of them have front end customization tools and that is great for any base form or report level customization.
And most of them don't have front end customization tools, so they may charge you for every report level customization whether it is a print format or a new report.
Also, some will never provide you with any customization except updates on standard operating procedures for enhancements.
Every ERP is good, but all have the pros and cons.
We understand every customer is unique and so are their requirements.
So we try to understand your process and the level and extent of customization that you would require.
Knowing all of your requirements we map the best solution for you.
Get free consulting services from us during your evaluation process.